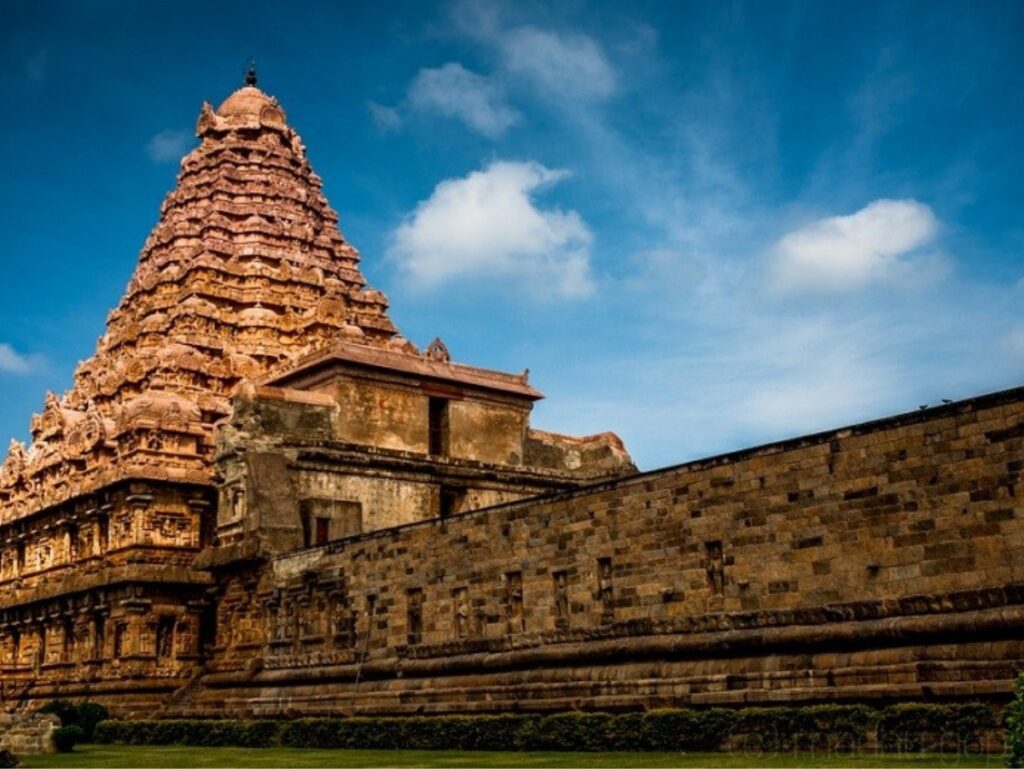 This grand temple was built under Rajendra Chola I in 1035 AD as part of his new capital at Gangaikonda. The Chola king instructed the defeated kings to send pots filled with water from river Ganga, which was poured into Cholagangam, the temple's Kunda (water tank). The name Gangaikonda is thus made of Ganga and kunda. This temple shares the same design and name as the older Brihadeeswarar temple of Thanjavur, but it is smaller in size and more refined. Both the Brihadeeswarar temples are the largest Shiva temples of South India. This Dravidian style temple is a UNESCO World Heritage Site. Surrounded by walls and a cascading garden, a massive Nandi bull sits outside facing the main temple sanctum. The sanctum houses the presiding deity, Brihadeeswarar in Shiva lingam form. The temple has five shrines, and the navagrahas (nine planets) are carved out of a single stone. The vimana is deliberately kept shorter than the older Brihadeeswarar temple – as a mark of respect to his father's work. The sri-vimanais ninestoried features symmetrical artwork, which is repeated in all the levels. The shrinking pattern of the artwork is rhythmic but not linear, lending the vimanaan unusual parabolic form. The neck protrudes in four cardinal directions, capped with kirtimukhas (face), and Nandi bulls seated on each corner. Next, a kalasa (cupola) sits on an open lotus, and above the kalasa, another lotus bud opens into the sky.
2,22,943
Population (2011)
Thanjavur City's Emergency Number
These are some emergency helpline numbers which can be made a call on, during various problems. You need not panic when in an emergency. The number of police and ambulance is mentioned.

108
Ambulance
Emergency Ambulance Number

100
Police
Emergency Police Number
1,739 total views, 7 views today