Thanjavur is located in the fertile Cauvery delta in Tamil Nadu. It is well-connected by air, road and rail to all major cities like Chennai and Bangalore. Here is how to reach Thanjavur.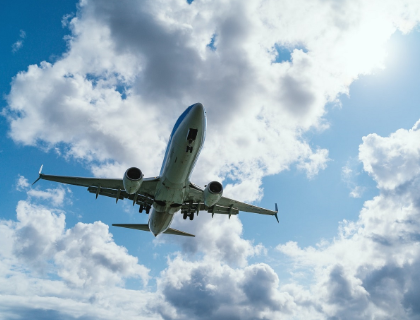 BY AIR
The nearest airport is at Trichy, about 55 km from Thanjavur. The airport is well connected by flights to Indian as well international cities. From the airport, taxi services are available for Thanjavur.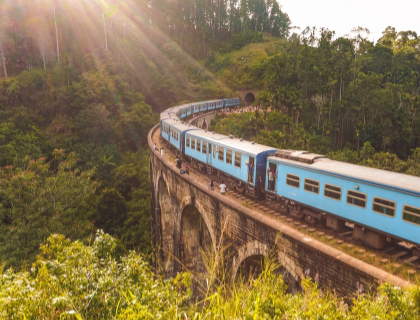 BY TRAIN
The nearest major railhead is also at Trichy. Trichy Junction is an important railway station on the Thiruvananthapuram–Chennai route. Trains from Bhubaneswar, Chennai, Coimbatore, Rameswaram, Varanasi, Mysore, Tirupati, etc. halt at the station. From the station, one can hire a taxi for Thanjavur.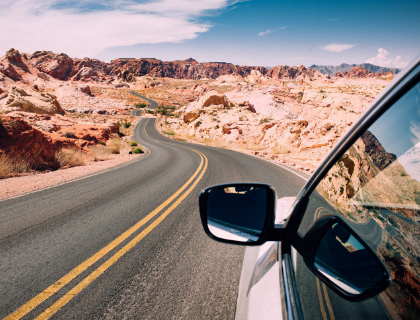 BY ROAD
Thanjavur is well connected by road to other cities of Tamil Nadu. Buses ply regularly from Thiruvananthapuram, Kanyakumari, Madurai, Chennai and other cities of Tamil Nadu. Private buses ply regularly from Benguluru too.

Flight coming to nearest Airport from Thanjavur:
| Sr No | Nearest Airport | Arrival Time at Nearest Airport | Time of Arrival | Flight Number | Airlines | Source Airport | Departure Time from Source Airport | Total Travel Time |
| --- | --- | --- | --- | --- | --- | --- | --- | --- |
| 1 | Tiruchirapalli | 01:00 hrs | 18:05 hrs | 6E 7246 | INDIGO | Bengaluru | 16:45 hrs | 01:15 hrs |
| 2 | Tiruchirapalli | 01:00 hrs | 08:25 hrs | 6E 7236 | INDIGO | Bengaluru | 07:05 hrs | 01:20 hrs |
| 3 | Tiruchirapalli | 01:00 hrs | 11:10 hrs | 6E 6269 | INDIGO | Bengaluru | 07:10 hrs | 04:00 hrs |
| 4 | Tiruchirapalli | 01:00 hrs | 14:20 hrs | 6E 6269 | INDIGO | Bengaluru | 07:10 hrs | 07:10 hrs |
| 5 | Tiruchirapalli | 01:00 hrs | 14:20 hrs | 6E 6825 | INDIGO | Bengaluru | 08:15 hrs | 06:05 hrs |
| 6 | Tiruchirapalli | 01:00 hrs | 14:20 hrs | 6E 541 | INDIGO | Bengaluru | 09:15 hrs | 05:05 hrs |
| 7 | Tiruchirapalli | 01:00 hrs | 14:20 hrs | 6E 6212 | INDIGO | Bengaluru | 10:40 hrs | 03:40 hrs |
| 8 | Tiruchirapalli | 01:00 hrs | 21:15 hrs | 6E 841 | INDIGO | Bengaluru | 15:20 hrs | 05:55 hrs |
| 9 | Tiruchirapalli | 01:00 hrs | 21:15 hrs | 6E 356 | INDIGO | Bengaluru | 17:10 hrs | 04:05 hrs |
| 10 | Tiruchirapalli | 01:00 hrs | 08:40 hrs | UL 172 | SriLankan | Bengaluru | 21:10 hrs | 35:30 hrs |
| 11 | Tiruchirapalli | 01:00 hrs | 18:30 hrs | AI 1173 | Air India | Bengaluru | 20:45 hrs | 93:45 hrs |
| 12 | Tiruchirapalli | 01:00 hrs | 18:30 hrs | AI 640 | Air India | Bengaluru | 06:40 hrs | 83:50 hrs |
| 13 | Tiruchirapalli | 01:00 hrs | 18:30 hrs | AI 1173 | Air India | Bengaluru | 20:45 hrs | 69:45 hrs |
| 14 | Tiruchirapalli | 01:00 hrs | 18:30 hrs | AI 505 | Air India | Bengaluru | 10:25 hrs | 80:05 hrs |
| 15 | Tiruchirapalli | 01:00 hrs | 18:30 hrs | AI 501 | Air India | Bengaluru | 13:20 hrs | 77:10 hrs |
| 16 | Tiruchirapalli | 01:00 hrs | 11:10 hrs | 6E 7145 | INDIGO | Chennai | 09:55 hrs | 01:15 hrs |
| 17 | Tiruchirapalli | 01:00 hrs | 14:20 hrs | 6E 7127 | INDIGO | Chennai | 13:00 hrs | 01:20 hrs |
| 18 | Tiruchirapalli | 01:00 hrs | 21:15 hrs | 6E 7149 | INDIGO | Chennai | 20:10 hrs | 01:05 hrs |
| 19 | Tiruchirapalli | 01:00 hrs | 18:05 hrs | 6E 447 | INDIGO | Chennai | 09:05 hrs | 09:00 hrs |
| 20 | Tiruchirapalli | 01:00 hrs | 18:05 hrs | 6E 253 | INDIGO | Chennai | 11:10 hrs | 07:05 hrs |
| 21 | Tiruchirapalli | 01:00 hrs | 18:05 hrs | 6E 927 | INDIGO | Chennai | 13:30 hrs | 04:35 hrs |
| 22 | Tiruchirapalli | 01:00 hrs | 08:40 hrs | UL 122 | SriLankan | Chennai | 10:00 hrs | 22:40 hrs |
| 23 | Tiruchirapalli | 01:00 hrs | 08:40 hrs | UL 128 | SriLankan | Chennai | 16:05 hrs | 16:35 hrs |
| 24 | Tiruchirapalli | 01:00 hrs | 14:20 hrs | 6E 683 | INDIGO | Hyderabad | 10:30 hrs | 03:50 hrs |
| 25 | Tiruchirapalli | 01:00 hrs | 11:10 hrs | 6E 188 | INDIGO | Hyderabad | 05:05 hrs | 06:05 hrs |
| 26 | Tiruchirapalli | 01:00 hrs | 14:20 hrs | 6E 188 | INDIGO | Hyderabad | 05:05 hrs | 09:15 hrs |
| 27 | Tiruchirapalli | 01:00 hrs | 14:20 hrs | 6E 121 | INDIGO | Hyderabad | 08:00 hrs | 06:20 hrs |
| 28 | Tiruchirapalli | 01:00 hrs | 14:20 hrs | 6E 6151 | INDIGO | Hyderabad | 09:15 hrs | 05:05 hrs |
| 29 | Tiruchirapalli | 01:00 hrs | 18:05 hrs | 6E 6066 | INDIGO | Hyderabad | 10:05 hrs | 08:00 hrs |
| 30 | Tiruchirapalli | 01:00 hrs | 18:05 hrs | 6E 827 | INDIGO | Hyderabad | 12:05 hrs | 06:00 hrs |
| 31 | Tiruchirapalli | 01:00 hrs | 21:15 hrs | 6E 597 | INDIGO | Hyderabad | 13:50 hrs | 07:25 hrs |
| 32 | Tiruchirapalli | 01:00 hrs | 21:15 hrs | 6E 274 | INDIGO | Hyderabad | 17:30 hrs | 03:45 hrs |
| 33 | Tiruchirapalli | 01:00 hrs | 08:25 hrs | 6E 949 | INDIGO | Hyderabad | 23:10 hrs | 09:15 hrs |
| 34 | Tiruchirapalli | 01:00 hrs | 18:30 hrs | 6E 951 | Air India | Hyderabad | 21:55 hrs | 44:35 hrs |
| 35 | Tiruchirapalli | 01:00 hrs | 18:30 hrs | 6E 977 | Air India | Hyderabad | 00:50 hrs | 65:40 hrs |
Generated by wpDataTables
Flight from the nearest Airport from Thanjavur:
| Sr No | Nearest Airport | Departure Time from Nearest Airport | Time of Departure | Flight Number | Airlines | Destination Airport | Arrival Time at Destination Airport | Total Travel Time |
| --- | --- | --- | --- | --- | --- | --- | --- | --- |
| 1 | Tiruchirapalli | 18:25 hrs | 18:25 hrs | 6E 7739 | Indigo | Bengalure | 19:35 hrs | 01:10 hrs |
| 2 | Tiruchirapalli | 11:30 hrs | 11:30 hrs | 6E 7146 | Indigo | Bengalure | 17:45 hrs | 06:15 hrs |
| 3 | Tiruchirapalli | 11:30 hrs | 11:30 hrs | 6E 7146 | Indigo | Bengalure | 19:40 hrs | 08:10 hrs |
| 4 | Tiruchirapalli | 14:00 hrs | 14:00 hrs | 6E 7131 | Indigo | Bengalure | 19:40 hrs | 05:00 hrs |
| 5 | Tiruchirapalli | 08:45 hrs | 08:45 hrs | 6E 7245 | Indigo | Bengalure | 09:55 hrs | 01:10 hrs |
| 6 | Tiruchirapalli | 09:35 hrs | 09:35 hrs | 6E 7151 | Indigo | Bengalure | 06:15 hrs | 08:40 hrs |
| 7 | Tiruchirapalli | 11:30 hrs | 11:30 hrs | 6E 7146 | Indigo | Bengalure | 21:20 hrs | 09:50 hrs |
| 8 | Tiruchirapalli | 14:20 hrs | 14:20 hrs | 6E 7131 | Indigo | Bengalure | 22:10 hrs | 07:30 hrs |
| 9 | Tiruchirapalli | 14:20 hrs | 14:20 hrs | 6E 7131 | Indigo | Bengalure | 21:20 hrs | 06:40 hrs |
| 10 | Tiruchirapalli | 09:40 hrs | 09:40 hrs | UL 132 | SriLankan | Bengalure | 20:10 hrs | 10:30 hrs |
| 11 | Tiruchirapalli | 21:35 hrs | 21:35 hrs | 6E 7151 | Indigo | Chennai | 22:55 hrs | 01:20 hrs |
| 12 | Tiruchirapalli | 11:30 hrs | 11:30 hrs | 6E 7146 | Indigo | Chennai | 12:40 hrs | 01:10 hrs |
| 13 | Tiruchirapalli | 14:40 hrs | 14:40 hrs | 6E 7131 | Indigo | Chennai | 15:45 hrs | 01:05 hrs |
| 14 | Tiruchirapalli | 08:45 hrs | 08:45 hrs | 6E 7245 | Indigo | Chennai | 16:10 hrs | 07:25 hrs |
| 15 | Tiruchirapalli | 08:45 hrs | 08:45 hrs | 6E 7245 | Indigo | Chennai | 18:10 hrs | 09:25 hrs |
| 16 | Tiruchirapalli | 18:25 hrs | 18:25 hrs | 6E 7739 | Indigo | Chennai | 23:00 hrs | 04:35 hrs |
| 17 | Tiruchirapalli | 09:40 hrs | 09:40 hrs | UL 132 | SriLankan | Chennai | 15:05 hrs | 05:25 hrs |
| 18 | Tiruchirapalli | 09:40 hrs | 09:40 hrs | UL 132 | SriLankan | Chennai | 08:50 hrs | 23:19 hrs |
| 19 | Tiruchirapalli | 09:40 hrs | 09:40 hrs | UL 132 | SriLankan | Chennai | 15:05 hrs | 29:25 hrs |
| 20 | Tiruchirapalli | 18:25 hrs | 18:25 hrs | 6E 7739 | Indigo | Hyderabad | 23:10 hrs | 04:45 hrs |
| 21 | Tiruchirapalli | 11:30 hrs | 11:30 hrs | 6E 7146 | Indigo | Hyderabad | 17:15 hrs | 05:45 hrs |
| 22 | Tiruchirapalli | 11:30 hrs | 11:30 hrs | 6E 7146 | Indigo | Hyderabad | 18:25 hrs | 06:55 hrs |
| 23 | Tiruchirapalli | 11:30 hrs | 11:30 hrs | 6E 7146 | Indigo | Hyderabad | 21:40 hrs | 10:10 hrs |
| 24 | Tiruchirapalli | 14:40 hrs | 14:40 hrs | 6E 7131 | Indigo | Hyderabad | 18:25 hrs | 03:45 hrs |
| 25 | Tiruchirapalli | 14:40 hrs | 14:40 hrs | 6E 7131 | Indigo | Hyderabad | 21:40 hrs | 07:00 hrs |
Generated by wpDataTables

Train coming to nearest Railway Station from Thanjavur:
| Sr No | Nearest Railway Station | Arrival Time at Nearest Railway Station | Time of Arrival | Train Number | Type of Train | Source Railway Station | Departure Time from Source Railway Station | Total Travel Time |
| --- | --- | --- | --- | --- | --- | --- | --- | --- |
| 1 | Thanjavur | 05:03 hrs | 05:03 hrs | 6,232 | MYS MV FEST SPL | Mysore | 16:30 hrs | 11:30 hrs |
| 2 | Thanjavur | 00:08 hrs | 00:08 hrs | 6,192 | Antyodaya Special | Nagercoil | 15:45 hrs | 15:40 hrs |
| 3 | Thanjavur | 23:38 hrs | 23:38 hrs | 6,852 | Covid-19 Special | Rameswaram | 17:10 hrs | 13:35 hrs |
| 4 | Thanjavur | 03:33 hrs | 03:33 hrs | 6,106 | Covid-19 Special | Tiruchendur | 18:50 hrs | 15:50 hrs |
| 5 | Thanjavur | 23:48 hrs | 23:48 hrs | 6,158 | Superfast Special | Madurai | 20:50 hrs | 10:05 hrs |
| 6 | Thanjavur | 05:03 hrs | 05:03 hrs | 6,232 | Festival Special | Mysuru | 16:30 hrs | 14:30 hrs |
| 7 | Thanjavur | 14:33 hrs | 14:33 hrs | 5,120 | Festival Special | Manduadih | 20:00 hrs | 51:00 hrs |
| 8 | Thanjavur | 06:00 hrs | 06:00 hrs | 6,865 | Covid-19 Special | Chennai Egmore | 22:55 hrs | 07:05 hrs |
| 9 | Thanjavur | 08:53 hrs | 08:53 hrs | 6,188 | Covid-19 Special | Ernakulam | 22:30 hrs | 13:40 hrs |
| 10 | Thanjavur | 10:48 hrs | 10:48 hrs | 6,796 | Covid-19 Special Express | Tiruchchirappalli | 10:00 hrs | 07:45 hrs |
| 11 | Thanjavur | 14:33 hrs | 14:33 hrs | 8,496 | Special Fare | Bhubaneswar | 12:10 hrs | 34:20 hrs |
| 12 | Thanjavur | 16:23 hrs | 16:23 hrs | 6,861 | Special | Puducherry | 12:00 hrs | 14:35 hrs |
| 13 | Thanjavur | 23:05 hrs | 23:05 hrs | 6,780 | Express Special | Rameswaram | 16:30 hrs | 17:40 hrs |
| 14 | Thanjavur | 11:43 hrs | 11:43 hrs | 2,089 | Covid-19 Jan Shatabdi Special | Mayiladuthurai | 07:10 hrs | 06:30 hrs |
| 15 | Thanjavur | 15:53 hrs | 15:53 hrs | 2,083 | Covid-19 Jan Shatabdi Special | Bhubaneswar | 14:50 hrs | 06:25 hrs |
| 16 | Thanjavur | 18:23 hrs | 18:23 hrs | 6,187 | Covid-19 Special | Karaikal | 16:30 hrs | 14:30 hrs |
| 17 | Thanjavur | 19:08 hrs | 19:08 hrs | 6,231 | Festival Special | Mayiladuthurai | 17:55 hrs | 15:15 hrs |
Generated by wpDataTables
Train from the nearest Railway Station from Thanjavur:
| Sr No | Nearest Railway Station | Departure Time at Nearest Railway Station | Time of Departure | Train Number | Type of Train | Destination Railway Station | Arrival Time at Destination Railway Station | Total Travel Time |
| --- | --- | --- | --- | --- | --- | --- | --- | --- |
| 1 | Kumbakonam | 18:35 hrs | 18:35 hrs | 6231 | MYS MV FEST SPL | Mysore | 09:10 hrs | 14:00 hrs |
| 2 | Kumbakonam | 04:28 hrs | 04:28 hrs | 6191 | Antyodaya Special | Nagercoil | 14:20 hrs | 15:20 hrs |
| 3 | Kumbakonam | 00:25 hrs | 00:25 hrs | 6851 | Covid-19 Special | Rameswaram | 08:30 hrs | 13:15 hrs |
| 4 | Kumbakonam | 21:58 hrs | 21:58 hrs | 6105 | Covid-19 Special | Tiruchendur | 08:05 hrs | 16:05 hrs |
| 5 | Kumbakonam | 03:13 hrs | 03:13 hrs | 6157 | Superfast Special | Madurai | 08:10 hrs | 10:05 hrs |
| 6 | Kumbakonam | 18:33 hrs | 18:33 hrs | 6231 | Festival Special | Mysore | 02:24 hrs | 15:15 hrs |
| 7 | Tiruchchirappalli | 05:10 hrs | 05:10 hrs | 5119 | Festival Special | Manduadih | 01:25 hrs | 49:30 hrs |
| 8 | Nidamangalam | 17:54 hrs | 17:54 hrs | 6187 | Covid-19 Special | Ernakulam | 07:00 hrs | 14:30 hrs |
| 9 | Papanasam | 13:49 hrs | 13:49 hrs | 6795 | Covid-19 Special Express | Tiruchchirappalli | 15:45 hrs | 07:45 hrs |
| 10 | Tiruchchirappalli | 13:50 hrs | 13:50 hrs | 8495 | Special Fare | Bhubaneswar | 06:10 hrs | 33:20 hrs |
| 11 | Tiruchchirappalli | 22:10 hrs | 22:10 hrs | 6862 | Special | Puducherry | 04:40 hrs | 14:50 hrs |
| 12 | Kumbakonam | 21:25 hrs | 21:25 hrs | 6779 | Express Special | Rameswaram | 05:10 hrs | 17:15 hrs |
Generated by wpDataTables

Bus coming to Thanjavur:
| Sr No | Bus Stand at City | Arrival Time at City | Time of Arrival | Name of Transporter | Type of Bus | Source City | Departure Time from Source City | Total Travel Time |
| --- | --- | --- | --- | --- | --- | --- | --- | --- |
| 1 | Thanjavur | 05:16 hrs | 05:16 hrs | KSRTC | RAJAHAMSA EXECUTIVE | Bengaluru | 20:31 hrs | 09:15 hrs |
| 2 | Thanjavur | 07:30 hrs | 15:30 hrs | TNSTC | ULTRA DELUXE | Chennai | 15:30 hrs | 08: hrs |
| 3 | Thanjavur | 15:00 hrs | 15:00 hrs | ORANGE TOURS & TRAVELS | AC SLEEPER | Hyderabad | 08:00 hrs | 17:00 hrs |
| 4 | Thanjavur | 14:45 hrs | 14:45 hrs | SWAMY AYAPPA TRAVELS | AC SLEEPER | Hyderabad | 08:15 hrs | 17:30 hrs |
| 5 | Thanjavur | 14:50 hrs | 14:50 hrs | KALLADA TOURS & TRAVELS | AC SLEEPER | Hyderabad | 07:15 hrs | 16:25 hrs |
| 6 | Thanjavur | 21:00 hrs | 21:00 hrs | GREENLINE TRAVELS | AC SLEEPER | Bengaluru | 07:15 hrs | 08:30 hrs |
| 7 | SRS Travels and Logistics Private Limited | 21:45 hrs | 21:45 hrs | SRS Travels and Logistics Private Limited | NON AC SLEEPER | Bengaluru | 06:00 hrs | 08:15 hrs |
Generated by wpDataTables
Bus coming from Thanjavur:
| Sr No | Bus Stand at City | Departure Time at City | Time of Departure | Name of Transporter | Type of Bus | Destination City | Arrival Time from Destination City | Total Travel Time |
| --- | --- | --- | --- | --- | --- | --- | --- | --- |
| 1 | Thanjavur | 21:30 hrs | 21:30 hrs | KSRTC | AIRAVAT CLUB CLASS | Bengaluru | 05:31 hrs | 09:15 hrs |
| 2 | Thanjavur | 09:00 hrs | 09:00 hrs | TNSTC | AC SLEEPER | Chennai | 17:30 hrs | 08:15 hrs |
| 3 | Thanjavur | 21:45 hrs | 21:45 hrs | SRS TRAVELS | NON AC SLEEPER | Bengaluru | 06:00 hrs | 08:15 hrs |
| 4 | Thanjavur | 22:00 hrs | 22:00 hrs | SAM TOURS & TRAVELS | NON AC SLEEPER | Bengaluru | 06:00 hrs | 08:00 hrs |
| 5 | Thanjavur | 15:00 hrs | 15:00 hrs | ORANGE TOURS & TAVELS | AC SLEEPER | Bengaluru | 23:15 hrs | 08:15 hrs |
| 6 | Thanjavur | 15:00 hrs | 15:00 hrs | ORANGE TOURS & TAVELS | AC SLEEPER | Hyderabad | 08:00 hrs | 17:00 hrs |
| 7 | Thanjavur | 14:45 hrs | 14:45 hrs | WAMY AYAPPA TRAVELS | AC SLEEPER | Hyderabad | 08:15 hrs | 17:30 hrs |
| 8 | Thanjavur | 14:50 hrs | 14:50 hrs | KALLADA TRAVELS | AC SLEEPER | Hyderabad | 07:15 hrs | 16:15 hrs |
| 9 | Thanjavur | 22:30 hrs | 22:30 hrs | NEW UNITED TRAVELS | AC SLEEPER | Chennai | 06:00 hrs | 07:30 hrs |
| 10 | Thanjavur | 22:00 hrs | 22:00 hrs | YBM TRAVELS | AC SLEEPER | Chennai | 05:00 hrs | 07:00 hrs |
Generated by wpDataTables
725 total views, 3 views today